I joined a new group swap that is going on on Flickr. I know I am about 8 months along and I do not need to be adding anything else to my plate, that's what I thought too. The group really pulled me in since they are making a pillow!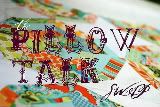 A pillow is one of the first things my mom taught me how to make when I was a little girl and I made tons of them. I couldn't pass this one up especially since it will really be something that I will use. I need some new pillows for my couch or for my bedroom. Here is the Mosiac that I made to help my partner figure out what I like.
( Just click on the mosiac and it will take you to my flickr stream to see all the credits for the pictures.)
Options for my partner:
My partner can make a pillow for me: greens (tv room for my couch) and blues (for my bedroom). Really can't go wrong with greens.
Or my daughters room is the bright fun room. Owls, Trees (she has
the pottery barn "brooke" bedding
, or something fun for kids. Colors: Aqua, Pink, Yellow & Green.
OR surprise me and I will find a place for it maybe for some future room??
I can't wait to get a pillow and to make one.
In other news.....I finished the top of the
baby quilt
that I am making. Here is alittle taste.
I would have it done by now but when I went earlier this week to buy the batting JoAnn's was all out of the one I wanted so they told me to come back on Friday and they should have it. I am hoping they do since I really want this WIP to be done. I especially want to be able to hang it over the crib and stare at it for awhile before the baby comes.